OK, I admit it. This is a bit of a random detour from the normal content of this site, but I just really wanted to share with you some of the lovely home decor blogs I've been checking out lately.
You may remember me mentioning my New Years' resolution was to declutter. Well these bloggers have helped keep me on track with that - as I've gone through and evaluated whether I really love the items in my home and their arrangement.
I can't get over the creativity and drive of these bloggers. They take boring rooms and old bits of furniture and work their magic on them to create something fresh and new.
In no particular order, here are my current four favourite home decor bloggers:
1. Miss Mustard Seed
Miss Mustard Seed refurbishes furniture for her home and to sell at her local antique store. She also writes for
HGTV
and is a contributor to
Cottages and Bungalows
magazine.
Here's a before and after shot of one of her projects:
DESK BEFORE
OTTOMAN BEFORE
DESK AND OTTOMAN AFTER
I spent yesterday evening watching Miss Mustard Seed's
tutorials on how to slip-cover a wing-back chair
. She made it look so doable.
I love her, "give it a go" attitude. She kept on saying that she doesn't worry about making things perfect, just does what she can. That's a similar attitude to me, but one I've always felt guilty for. Nice to see someone out there who is successful and makes beautiful things, all while
not
being a perfectionist.
2. Centsational Girl
Wow Kate of Centsational Girl. You have style!
When I first discovered this blog I spent weeks reading through all her "Project Gallery" posts. Most of them are about rooms and projects she's transformed in her own home. She has written great "How to" posts that explain how exactly she achieves the look she has.
Here's one of her clever before and afters:
CREDENZA BEFORE
CREDENZA AFTER
Centsational Girl also regularly features her favourite projects by other bloggers, which is actually how I discovered
Miss Mustard Seeds
and
Young House Love
.
3. Young House Love
This is the blog of Sherry and John Petersik, who are in the process of renovating their second home. It's their full-time job, paid for by their blogging antics. I like their funny writing style, and their creativity.
They're a very driven couple, so they achieve a lot in a short time. It's fun watching their house transformation take place. And you can go back and read about their first house transformation too.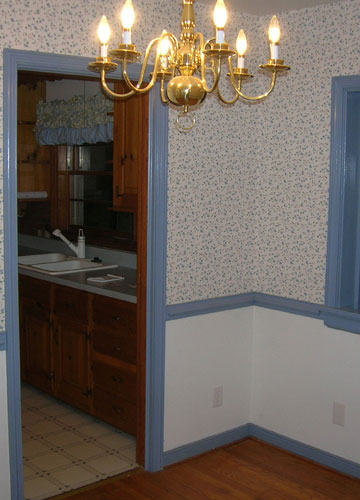 BABY'S ROOM BEFORE (AS A DINING ROOM)
BABY'S ROOM AFTER
4. A Beach Cottage
Sarah is another fan of winging it, and not worrying about perfection. But I'd say she works pretty dang hard because she and her husband have transformed a run-down Sydney beach cottage into a light, airy, relaxing and beautiful home. And they've done it on a budget too, by repurposing other people's "junk", and getting creative.
BEAUTIFUL BED