This is the third post in a series on the principles of a nourishing traditional diet that Dr Weston A. Price discovered when he travelled the world studying primitive cultures in the 1920s and '30s.
I was fortunate to attend a recent talk by Sally Fallon Morell, author of
Nourishing Traditions
, where she covered these principles.
If you missed the first posts in this series, read them here:
3rd principle - Every diet contained animal products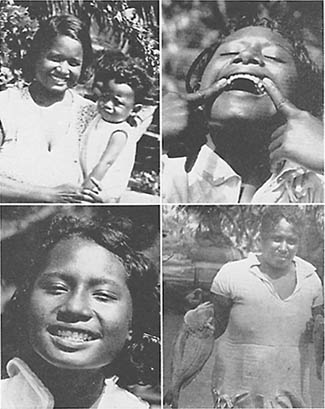 From Nutrition and Physical Degeneration, by Dr. Weston A. Price: "These pictures tell an interesting story. The grandmother shown in the lower right knew the importance of sea food for her children and grandchildren and did the fishing herself. Note the beautiful teeth and well formed faces of her her daughters."
Dr Weston A. Price was surprised to discover that all traditional cultures ate some form of animal products.
At the very minimum they ate dairy products and insects, for example east Indians ate dairy products and grains typically infested with insects.
The people Dr. Price found to have the broadest faces and thickest skulls (indicating the best diet) ate shellfish and fish (including the oil, bones and heads). Many cultures went to great effort to obtain sea foods, for example people living in the Andes 12,000 feet above sea level would hike down to the sea to obtain fish roe (eggs). Other cultures would trade for sea food if they didn't live near the sea.
Many cultures ate birds, typically chickens, ducks and geese. Organs, fat and skin were the most prized parts.
Many cultures ate red meat from beef, goat, sheep, game. Organ meat and fat were preferred.
Many cultures consumed milk and milk products - raw or cultured, but never pasteurised.
Price analysed these animal foods and found they contain nutrients that aren't found in other foods, including Vitamins A and D, cholesterol, vitamin B12 and activator X (vitamin K2). Animal products also contain very long chain superunsaturated fatty acids - AA, EPA and DHA. And many other nutrients are more easily absorbed from animal products, including calcium, B6, magnesium, iron, zinc and copper.
Vitamin A
Today we know that vitamin A is vital for developing foetuses. In stem cells, it is vitamin A that signals for organs to develop. The heart is the first organ to develop, so if a mother doesn't have enough vitamin A stored, a baby's heart might not form and he/she could be miscarried or born with a heart defect.
Vitamin A is depleted by stress, excess protein, cold weather, fever and illness, physical exertion and exposure to toxins.
Vitamin D
It's a myth that we can only absorb vitamin D from sunshine. Lots of foods give us vitamin D, including shellfish, organ meats, fats, blood and cod liver oil.
It is actually more difficult to get vitamin D from sunshine than we realise, as people can only make it when the sun is directly overhead in the summer months, and need to spend at least half an hour undressed in the midday sun to make the vitamin D needed for good health.
Vitamin D plays important roles in bone growth, metabolism, muscle tone, reproduction, healthy skin, insulin production, the immune system, nervous system, cell function, feel good chemicals and longevity.
Cholesterol
Despite being commonly thought of as public enemy number one, cholesterol is an essential nutrient for optimal development of the nervous system, brain and digestive tract. (Read more about the great cholesterol con
here
.)
It is especially important that foetuses, babies and growing children get a lot of cholesterol so they can develop properly.
Vitamin K2
When animals eat dark green plant material, they convert its vitamin K1 content to vitamin K2, which Dr Price identified as "Activator X". Vitamin K2 is vital for growth, especially facial development. It's a sign of vitamin K2 deficiency if the middle third of a face is underdeveloped.
Vitamin K2 works in conjunction with vitamins A and D. The latter tell cells to make certain proteins, and vitamin K2 then activates them.
Food sources of vitamin K2 include:
Natto (fermented soy)
Goose liver
Cheese
Egg yolk
Butter
Chicken liver
Fatty meats
Sauerkraut
Fermented cod liver oil
Fish eggs
Other organ meats
Confining animals away from sunlight and away from pasture grown in sunlight causes them to lose valuable vitamins A, D and K2. It's important to buy animal products from free range / pastured animals for this reason.
The best animal product to eat
There is no food higher in nutrients than liver. Someone asked Sally Fallon Morell whether it was dangerous to eat liver, since it cleans toxins out of the bloodstream. Her response was that the liver is not a storage organ so it doesn't hold onto the toxins it cleans out. (Read about
my humble attempt to start eating liver
here.)
This post is part of
Monday Mania
and
Traditional Tuesdays.