A few weeks back I went to pick up my
raw milk order
and noticed several containers of fermented sauerkraut in the pick-up room. I did some digging and found out a local woman makes sauerkraut to order.
Now, I'd never eaten sauerkraut before but I had read in
Nourishing Traditions
how enzyme-rich it is. The book explains that enzyme-rich foods give you energy, and help your body better process other foods you eat.
Yoghurt
and
Kefir
are both enzyme-rich, fermented foods I've talked about before.
Apparently Captain James Cook took 60 barrels of sauerkraut on his second round-the-world voyage in the 1770s. The last barrel was still good after 27 months of sailing and lots of climate changes. Eating sauerkraut prevented crew members from getting scurvy, although scurvy commonly killed crew members of long sea voyages before then.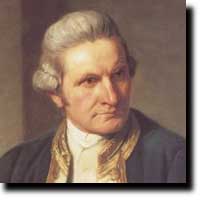 Captain James Cook.
Knowing all of this, I mulled over whether to buy a box of sauerkraut for us. At $14, it seemed like an expensive mixture of cabbage and carrot.
In the end I went halves with a friend who used to live in Germany and loves sauerkraut. I thought it would be worth buying well-made sauerkraut once, so I could see what it's meant to taste like before I attempt making my own.
Locally-made cabbage and carrot sauerkraut.
And I'm really enjoying it. It's such an easy way to get an extra serving of vegetables into my diet. I just scoop a couple of spoonfuls onto my plate with whatever else I've made and feel good knowing I'm eating such a beneficial food.
The plan from here is to use some of the tutorials I've linked below to learn how to ferment my own vegetables. If I'm successful, I've found an easy way to store excess garden produce that will enhance their nutritional value, rather than reduce it like canning does.
Tutorials on fermenting vegetables
These posts about making whey will also come in handy, as whey is a vital ingredient when fermenting vegetables.